You may be asking between each other, what happend with the Blogtober post? Well... How can I explain this in a way that can be understand by all?
*scratch her chin*
I know... I simply didn't want to make them anymore
*smile like the cheshire cat*
The hole point was to blog every single day, you could say... But let me ask you this: Why prepare a blog post if you don't want to follow the prompts given to you for this?
So what I will do is make a blog post from here forward about any idea I got in my head that day
*smile*
Today for example I want to talk about Midori Traveler's Notebooks and my obsesion with getting a Trifold from Jonelifish.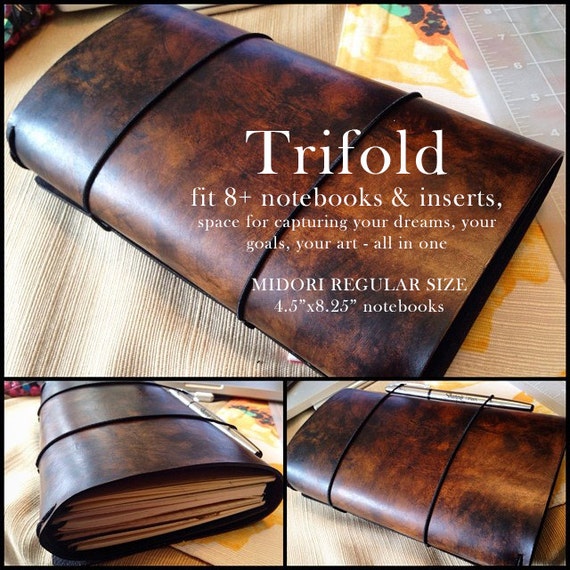 https://www.etsy.com/shop/Jonelifish
Honestly, I want that Midori Trifold Journal
*sigh deeply*
But I already have a regular size brown gorgeous original Midori that my Boo gifted to me, and don't get me wrong, I adore that thing but looking at this I can't stop thinking that it would be amazing in my hands
*stick her tongue out just a second, like a child*
What makes things worst it's that I already name this Trifold and that makes me want it even more, which it's not good, not good at all...
*sigh again*
When I get stuff into my head, ideas that I want something, I often end up getting it or just ignoring the idea completely and a great example would be that last night I was on the Barnes and Noble website wanting to buy
Piccadilly Notebooks for my Midori *roll her eyes* Like I didn't have enough handmade ones...
I need to fight with this urge to press that bottom and get that Trifold in my hands because really... I don't NEED to pay more that XX dollars on a leather trifold, right?
*sigh*
But i WANT to, and there lays the problem, because technicaly I can, I have the money but it would be like my binders, I have 6 (if I don't remember incorrectly) and I not even using one well enough...
In total honesty I have:
1
Full size Original Midori
1
Full size leather Midori
1
Handmade full size fauxdori
1
Field Notes size leather Midori
1
Handmade pocket size leather Midori
1
Handmade pocket size fauxfori
So... I ask you... I really need to pay XX amount of dollars for another Midori?